HOME > Information & BLOG > アーカイブ > 2019年2月
2019年2月
Elie My Love (Kensuke Kuwata) Alexander Fisher, Guitar
Histoire de tango, "Bordello"(Astor Piazzola) Jun Kubo, Flute and Hiroshi Kishimine, Guitar
Sonata for Cello and Guitar 1st Mov. (Radames Gnattali) Kyonga Im , Cello & Hiroshi Kishimine, Guitar  
Etude Op.25-No.1 / No.10-12 (F. Chopin) Haruko Uehara, Piano  
Romanian Dances (B. Bartok ) Keiko Suzuki, Violin & Emy Todoroki -Schwartz, Piano
Next Student Recital will be
on May 19th, Sunday
.  Emergency call for the day of recital: 080-6868-7078
It is going to be at
"Scott Hall" in Waseda
(Map below with the closest station.)
It is in 3 parts and is for
and
Part 3
5:30-7:00pm
.Starting time may be Slightly later but should be finished in time as planned.
Rehearsal will be from 17:00pm~21:00 on the 18th and 1:00pm~1:30pm and 17:00~17:30pm (for those who cannot come in for the day bfore and performing for part 2 or part 3) Most part 1 piano students will not have rehearsal unless the teacher decided to have one. Please come in at assigned time for your rehearsal and 10-15minutes before the recital of your part on the day. You are not allowed to stay inside the hall after the rehearsal.
<Fees>
e (Outside Student will be 14000 yen)
We hired professional video makers and taking pictures / videos personally during performances is not allowed inside music hall.
Please enjoy the live music with your own ears and eyes. Thank you.
次回の発表会は
5
月19日日曜日「早稲田奉仕園 スコットホール
」にて行います。地図↓(地下鉄の最寄り駅よりの案内が下の方にあります。)
当日の欠席等の連絡:080−6868−7078
3部制で行い、1部:
2時
から2時45分、2部:3時から4時45分(少し押す見込みです)、3部:
5時半
から7
時
(最大)の予定で居ります。状況により開始時刻を遅らせます。(参加人数により多少前後すると思います)
ビデオ/写真の撮影をプロの方にお願いしております。
当日の個人でのビデオ撮影はご遠慮いただき、生の演奏を存分に楽しんでいただきたいと思います。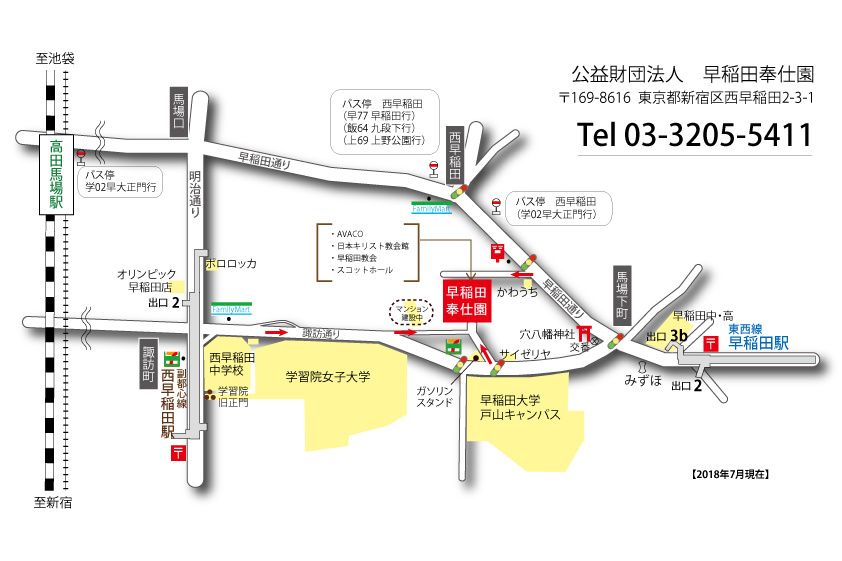 Googleマップ
1
« 2018年8月 | メインページ | アーカイブ | 2019年11月 »